Mary Angela McMenamin
McMenamin's talent was evidenced by winning art awards since she was a child. At 14, she illustrated a text book and painted holiday murals for local businesses. Her artwork was internationally published while still attending high school. She received several awards for her art and service, to note a few: the Bank of America Achievement Scholarship, the Ebell Women's Club district-wide scholarship, the School Art Award.
In 1982, after receiving her BA from CSULB, she began a career in commercial art where she advanced to Art Director. In 1984, McMenamin established and directed an art department for Trend Offset Printing (then Lienette), worked at Gemco as a Layout Artist, then set up an in-house Art Department for Smart & Final, Inc. before starting her own company, AdMax Graphics and Advertising. With AdMax, she developed an impressive clientele including: Beatrice-Hunt/Wesson (now Conagra), Weyerhaueser, Sony, Calavo, Quicksilver Software, and Prepco to name a few. She received a national award for her work. McMenamin also created artwork for Disney's first animated computer game It's a Small World.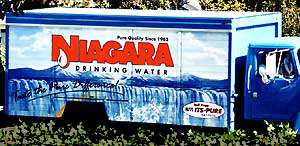 Perhaps you've seen Niagara bottles or trucks displaying Mary's work.
In '93, she took a year off from commercial art to travel and paint. In '97 she opened McMenamin Gallery in San Clemente. Her works have been published internationally as: prints, cards, collectors' plates, needlecraft art, wall scupts, canvas transfers, Giclees and gift boxes.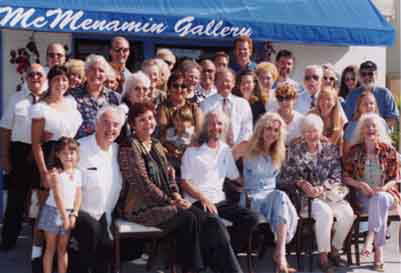 --------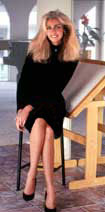 1997, McMenamin Gallery Grand Opening. McMenamin in her studio.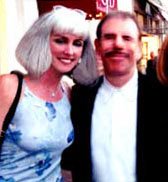 ------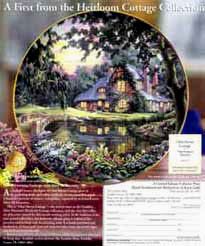 Artists McMenamin and Peter Max. Franklin Mint ad featuring her art.
In 1999, she became more civicly involved. Current and past Civic and Professional Associations: San Clemente Chamber of Commerce; Committee Member San Clemente Revitalization 2000, Casa Romantica Steering Committee (2002); Member S.C. Historical Society; Honorary Lifetime Member The Heritage of S.C. Foundation (2003), Member Surfrider Foundation; Member Sierra Club; Committe Member Landmark Task Force (2004), National Historic Society (2004), Member Downtown Business Association (2005), Leadership San Clemente (2005), Committee Member Marine Corps Monument at Park Semper Fi (2006), Art Director Heritage of San Clemente, Art Director Tile Mural Project; Broker / Member National Association of Realtors; Member National Notary Association; Committee Member Police Services Youth Task Force Chalk Art Festival; Member Altar Society (2010); Committee Member St. Joseph Society (2010); Member FiSH - Fatima Feeds the Hungry (2011); Committee Member OLF Fundraising (2013); and various church ministries.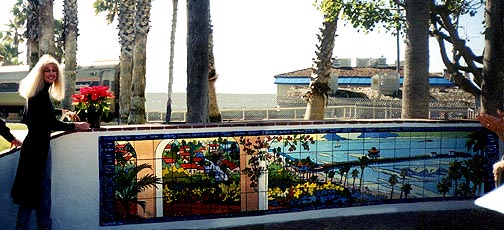 Unveiling "San Clemente Morn" a tile mural she designed and directed benefitting the San Clemente Historical Society.
In 1994, she was contacted by the White House as to her interest in painting a portrait of the President. She subsequently traveled to Washington D.C. to meet with Curator Rex Scouten, and enjoyed a private tour of the White House collection. In 1995, the City of Santa Fe Springs commissioned her for several murals. In 1995, an historic train in Heritage Park (Santa Fe Springs, CA) received an 8' x 32' classic mural of California orange groves. The next year, she painted two more murals at the Child Development Center in the same park.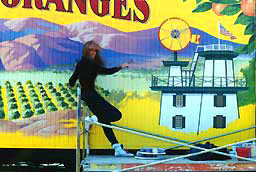 ----
-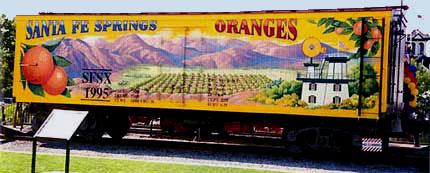 1995, The finished mural on an antique train box car.

1996, "Paint Pails & Fish Tales", an 8' x 36' mural at the Child Development Center, depicts children painting a mural of themselves in a riverbank scene.

McMenamin enjoys being involved in her community, whether it's painting murals, or sprucing up the town. At the develpment stage of Talega in San Clemente, she was asked to create artwork to hang in the premier model home. The originals sold with the model. Her painting Our Marine Family is today on display in the San Clemente Community Center.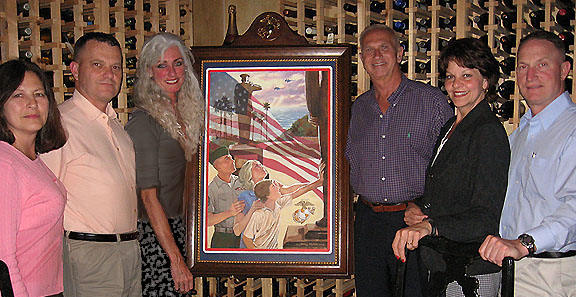 2007, General & Mrs. Lehnert, McMenamin, painting "Our Marine Family", Mayor Eggleston, Col. & Mrs. Navarre.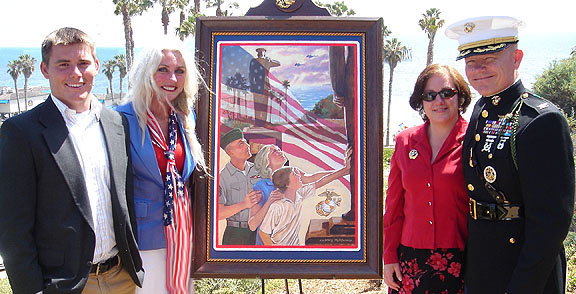 2007 unveiling of "Our Marine Family" at Park Semper Fi in San Clemente. The painting is on display at the "Hall of Heroes" in the Community Center.
Other projects include Police Services Youth Task Force (their First Annual Chalk Art Festival celebrating cultural diversity), the Map of San Clemente and The Heritage of San Clemente History Book (below).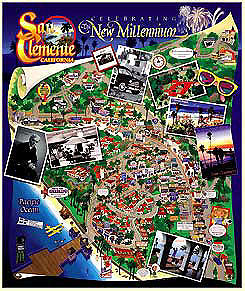 -----

Year 2000 Map and history book "The Heritage of San Clemente"
In 2002, she co-founded Forensic Seminars International (FSI) providing training and consultation to law enforcement agencies in the Forensic Sciences. Between 2002 and 2010, McMenamin enjoyed a career as a partner in a mortgage banking firm, also working as a public notary before moving into solely brokering her corporation Primary Residential Real Estate.
Now dedicating her time entirely to service, since 2009 she has participated in various ministries (EMHC, Lector, Sacristan, Altar Society, SJS Committee, Fund-raising Committee, Altar Server, graphic designer and artist) and has taught continues Bible studies at her parish. In 2012, she completed her 1-year certification (ELI - Emerging Laity Initiative) simultaneously with her 3-year certification in Biblical Studies from the Catholic Bible Institute (CBI) which is sponsored by Loyola Marymount University and the LA Archdiocese.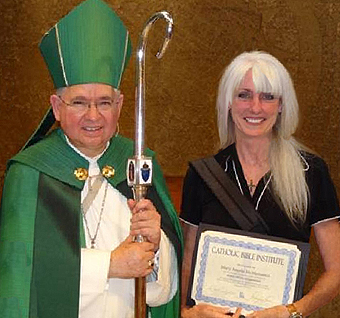 2012 Graduation Day with Archbishop Gomez at the LA Cathedral.
McMenamin graduated Summa Cum Laude from John Paul the Great Catholic University's masters program in Biblical Theology.
"If the bustle of adult life makes us lose the child in our hearts, perhaps through art we can help rekindle warm memories, revive our sense of wonder and love of beauty. Life is change. As quickly as moments approach, they disappear - each moment unique and never to be again. Isn't it wonderful that through art we can capture a moment to share, not only as a record, but as an emotion ~ a held moment in time, yet its message will change. As generations come and go, the good things we leave with this world will remain."